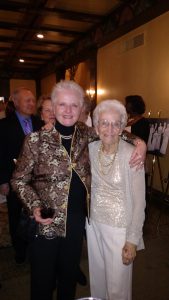 Dear Friends:
I was privileged to attend LVA Founder Ruth J. Colvin's  100th birthday party in Syracuse on Nov. 18., 300 of her closest friends gathered in the grand ballroom of the Hotel Syracuse to celebrate and honor this remarkable woman – who still serves on the Board of Literacy Central NY, writes books, trains tutors, works out at the gym, and plays golf – seemingly all at the same time!
I first met Ruth and her husband Bob in 1980, at the Literacy Volunteers of America National Convention in Harrisburg, PA.  The organization was then 18 years old.
In 1962, our founding year, Ruth was shocked to discover that over 11,000 adult citizens of Onandaga County, home of the city of Syracuse, could not read. In response, Ruth and some friends from Church Women United, with the collaboration and guidance of Syracuse University School of Education, created a program that used trained volunteers to work with adult learners – and the program quickly spread around the state and across the country.
As the program grew in the U.S., Ruth and Bob took their literacy expertise on the road, visiting over 80 countries. They worked with local adult educators in China, Angola, and India, to name but three, to create local-language adult literacy programs.
Ruth is the recipient of dozens of honorary doctorates from colleges and universities around the country.
She convinced then-First Lady Barbara Bush to create her Bush Family Literacy Foundation, and during the administration of President George W. Bush she was awarded the Presidential Medal of Freedom, our nation's highest civilian honor.
The organization Ruth began in 1962 has helped hundreds of thousands of educationally disadvantaged adults achieve their goals.  Thousands of tutors have been recruited and trained. But Ruth also created an organization in which hundreds of professionals like me have found not just employment but a calling – a vocation, if you will – to help our students improve their lives and the lives of their children and their community through the gift of literacy. Happy Birthday, Ruth!